Got Bookkeeping?
Welcome to Alwayz Bookkeeping, LLC
---
"Alwayz" have insight:

A bookkeeping company provides many services that improve the bottom line for your company. Through computer software and consistent entry practices, a bookkeeping company can help to make your business more profitable. It can also help catch any factors that are affecting your bottom line. As a result these methods help to reveal expenses that are burning through the profits of your company.
If you have just started or are in the process of starting a new business we know that the thought of bookkeeping and accounting can be a daunting task. We are here for your needs and can transition the process seamlessly. We ask all the right questions so we can get the books up and running quickly and thoroughly and you have peace of mind that all of your ideas and our expertise are working in the background for your company.
Take a look at this article from the National Federation of Independent Business regarding hiring a bookkeeping service:
http://www.nfib.com/business-resources/business-resources-item?cmsid=16198
.
Or if you are an existing business and you have boxes and boxes of previous year(s) worth of bookkeeping that hasn't been done or is a mess, don't worry we are used to it, it's just part of the business, we can clean up the old stuff and get you on track and brought current. Just remember huge messes can't be cleaned up over night, this takes time and dedication. We want your books clean and accurate so you and your CPA will be happy:)
Why choose "Alwayz":

Friendly & Confidential
Trusworthy and Experienced Local Team
Accurate & Organized Accounting Services
Services Offered Onsite, Offsite or Secure Remote Access
We Work and Coordinate With the CPA or Tax Preparer of Your Choice
Multi-industry and Multi-company Accounting Experience
Customized Pricing Tailored to Your Company's Needs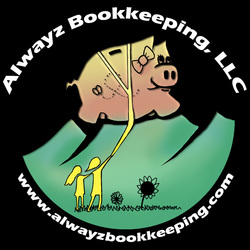 Don't let your money fly away!
---